The Pollinator Project
Bees and butterflies have been disappearing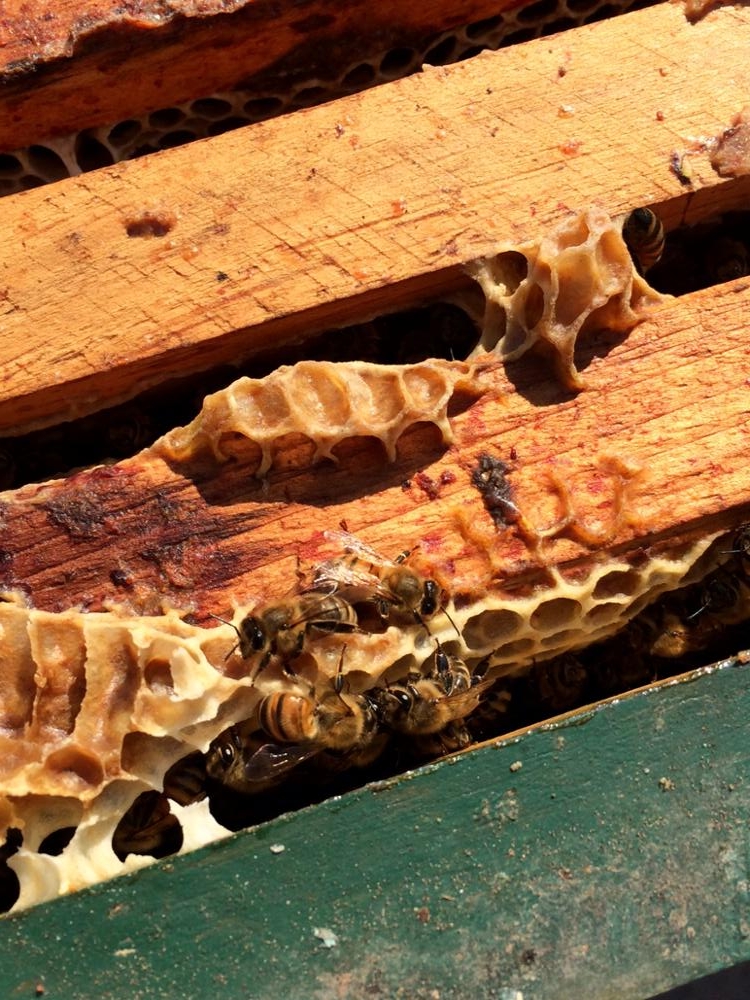 by the millions. Ontario Tech University has decided to do something about it. In the summer of 2016, we began to build our pollinator program, including a pollinator garden and bee boxes.
All plants were donated from a variety of garden centres such as McKenzie Seeds, Rekker's Garden Centre, Vandermeer Nursery, and Veseys. Our bee boxes were set up to house bee colonies that have been growing in the barn walls on the property. According to apiarist consultation, the estimated populations of bees that were re-homed in Spring 2016 was 200,000 (three hives).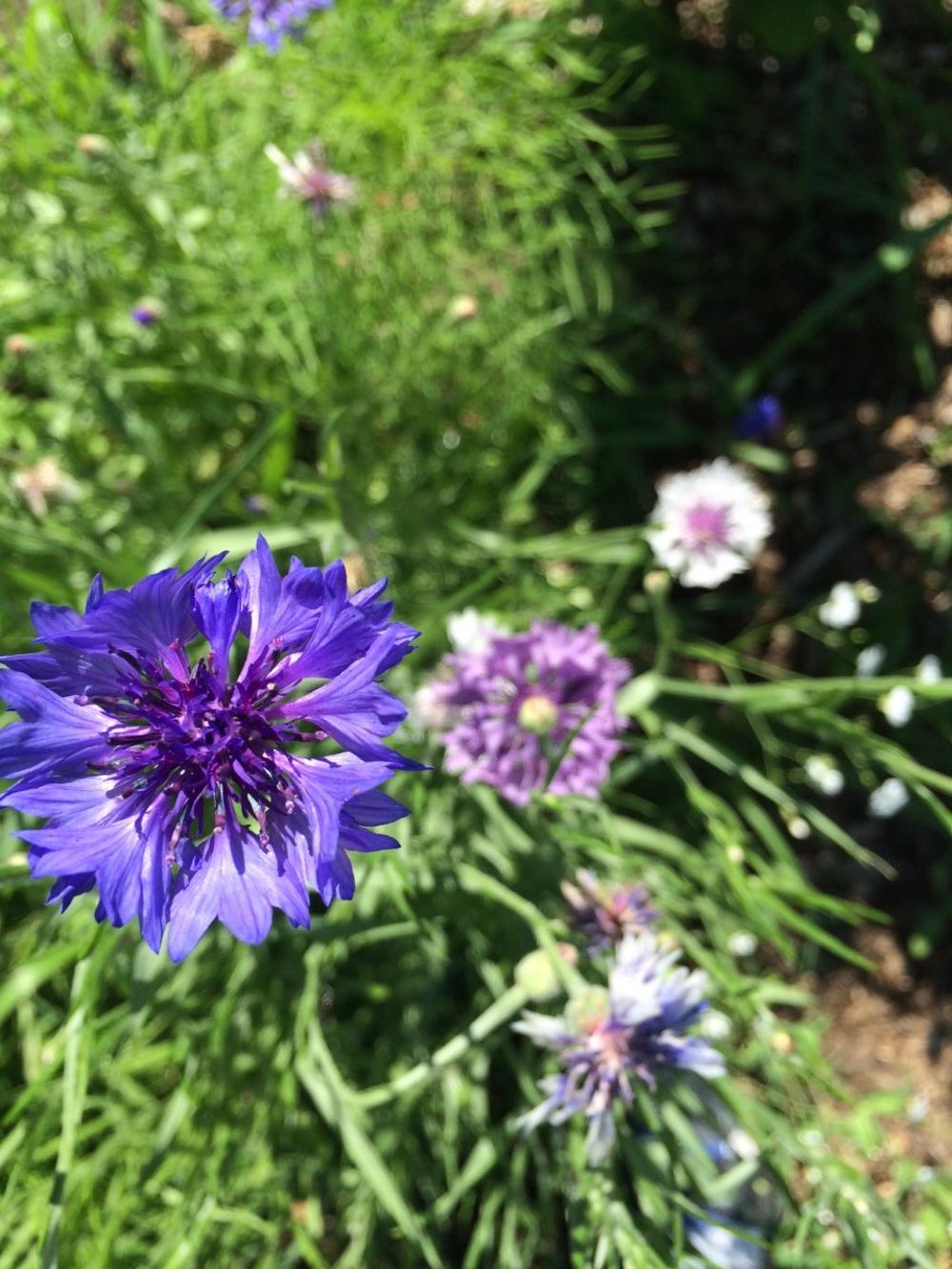 Our pollinator garden was planted and managed according to the eligibility criteria for certification through the Canadian Wildlife Federation. It includes standing water features, resting stones throughout, and log borders for winter hibernation. We do not use non-organic pesticides, and have implemented water conservation practices.
The garden includes a combination of native and non-native shrubs, perennials, annuals, flowering bulbs and milkweed. It includes vegetables like peppers and tomatoes. It also has herbs such as sage, mint and lavender. The garden is home to perennials such as asters, black-eyed susans, hostas, mums and wildflowers. It contains both common and butterfly milkweed.
Our goal for the Pollinator Project is to not only help provide a place for pollinators to visit but also for you to visit the university. We hope to design an outdoor classroom. The class will include workshops on gardening and bee management for students, staff and community members. Due to the successful growing season this year, we also hope to expand the garden and start our own seed library soon.
Fun facts

Native bees and European honey bees do the majority of pollinating, but butterflies, ants, beetles, moths, hummingbirds and bats are also considered pollinators.
All bee species have different tongue lengths that adapt to different flowers.
Different-coloured flowers will attract different kinds of pollinators. Bees often prefer blue and purple-coloured flowers, and hummingbirds enjoy colours like red and pink, while butterflies like bright yellows.  
A flower's fragrance also attracts pollinators, especially night pollinators such as bats and moths.

Community Garden Blog 2018

Community Garden - Opening Year

Building Ontario Tech University's first community garden was integral to the growth and development of our school and Oshawa community this summer. It was through the start of this program that we were able to provide our staff with the opportunity to learn about the benefits of growing local crops in a sustainable and environmentally responsible way. A garden is a great place for pollinator friends, especially bees from our apiary to provide necessary resources for them as well as for our staff to learn more about the importance of growing your own produce on top of building a stronger community.

Here in Oshawa, Ontario we started Ontario Tech's first-ever community garden, which also was incorporated into the pollinator project. The community garden served as a link between building our sense of community within Ontario Tech and our bigger community of Durham Region. The community started off as a weed-filled paddock that we were able to have cleared out and new nutrient-rich soil left in its place. The garden was divided into 10-ft by 14-ft size plots for each staff or faculty member that signed up. These plots were divided and each member was allowed to grow any pollinator-friendly flower, fruits or vegetables that they wanted. Tomatoes, beans and cucumbers were a big hit in the community garden.

Being our first year of the community garden we had 10 plot spaces that were divided between different individuals as well as groups from different faculties on campus. Once we kicked off the community garden, we supplied some seedlings to our gardeners to start things off for them which included various varieties of tomatoes, potatoes, cucumbers and peppers. It was from the community garden in conjunction with our pollinator garden that we are able to make many donation trips to our local soup kitchen St. Vincent De Paul where they were able to use the fresh vegetables.

This was such a rewarding experience for all of us here at the Sustainability department as we knew these fresh vegetables and fruits would be going to a good cause in the community. We also had the privilege of having students and other staff come to tour the garden to learn about the importance of community gardens and what our community on campus is doing outside of just gardening.

The greenhouse was also an integral part of helping provide back into the community as we planted roughly 60 tomato plants that were picked throughout August and September for donations as well. In the future, since the greenhouse will already be assembled, we hope to start many seedlings in early spring to supply the community garden with start-up plants for those interested in getting a head start.

We were also able to hold a pollinator workshop with a group of local children that visited the farm to educate and promote pollinator-friendly practices. In the interactive camp day we had the opportunity to show the children our honey beehives, and help us actually build mason bee homes. We educated them on the use of pesticides as well as pollinator-friendly plants that actually promote a healthy environment for not only honey bees, but many other pollinators as well. These projects and activities mostly done throughout the summer gave us many opportunities to not only give back to our community but also to educate people and make them aware of all the amazing things that are happening on campus to build our sustainable environment and to build on our relationships between staff, faculty, St. Vincent's and the youth in our community.

Community Garden Blog 2019

Being the second year of the community garden we were happy to announce that we went up to 25 plots this year, with a lot more room for expansion in the years to come. Having everything organized and in place from last year we were able to campaign a lot more and reach more staff to come and join the garden. We have various staff and faculty groups in the community garden this year, which makes it great for building a stronger campus community amongst the staff. With more plots being used we are able to make more of a difference in our community to donate larger amounts of fresh local produce.

Meet-and-greet

To kick off the official start of the community garden we hosted our annual meet-and-greet with the community garden participants to allow everyone to meet each other building those relationships from the very start of the garden. We briefly explained the garden and our purpose to promote a strong link between not only our school community and the community of Durham Region as well. At the meet and greet groups were shown their plots and given an overview on the program and our goals for the year as we all go our separate ways to grow. Being able to start seedlings earlier in the greenhouse was very beneficial as we were able to provide members with started plants for their gardens giving them a little boost.

Garden Staff Challenge

This year we created a staff challenge within the garden. Teams were randomly divided and given a plot within the community garden to grow and produce any pollinator-friendly plants of their choosing. The challenge encourages the teams to get creative in how they decorate the garden and provides points on how well it is maintained, the produce gathered from it and any creativeness contributed. The staff challenge helped to encourage various groups to grow produce, and connect further with nature in doing so. Any extra produce grown from the team challenge garden is donated to our local soup kitchen. The group challenge has been a great way to get a friendly competition going and promote sustainability in our staff's everyday lives.

Pollinator Tour

In June we hosted our annual Pollinator Tour, which highlighted the various initiatives happening on campus for our pollinator friends. The community garden was a highlight of the tour, showcasing the gardens and the benefits that creating a community garden has not only for our campus connection but also on pollinators. A highlight for the Pollinator Tour was being awarded Bee City Campus for our efforts in educating, promoting and supporting pollinators. The tour was open to students, staff and faculty, as well as the community to come and see what Ontario Tech is doing for pollinator species and to become more educated on the issues we are faced with today. Throughout the Pollinator Tour we included a campus clean up to help reduce any waste found on the grounds as we walked through. Also along the tour we visited the community garden and greenhouse where attendees became aware of our sustainability efforts and the Fulbright support for this initiative.

Turtle Camp

Turtle Camp is a day camp for children between the ages of eight to 12 to connect back to nature in a nature-based environment. There is an Indigenous elder who helps run the camp and teach the children about the history and practices of the Indigenous people from the area. The kids explored various sustainability-related ideas as they were participating in scavenger hunt games, building gardens and planting various native plant species. The children also participated in a tree identification game where they were required to find the trees that were marked and try to identify what kind of tree they were such as coniferous, etc.  Along with the tree identification and classification, the children also took part in a pollinator tour to see our pollinator garden featuring butterfly milkweed, our large vegetable garden along with the community garden as well as the greenhouse and bee hives. This was a great opportunity to show the students the simplicity of growing one's own garden to supply their own fresh vegetables as well as how we were able further exemplify the importance of bees and other pollinators in our everyday lives.

Ontario Tech's Plant Biology Class

On September 30, we offered an experiential learning session for our university's third-year Plant Biology class, who explored the different soil types around our Windfields Farm location. Students were put into various groups and tested soil at each of the various locations in our garden field and greenhouse, using a soil testing it for nitrogen, phosphorus, pH as well as others. They dug into the soil, took a test sample and followed the instructions on the soil testing kits. They also described the soil in their own words based on colour, texture etc. With the information gathered on the farm, as a follow-up report, the students described their findings for the different locations from the soil testers and also come up with solutions to combatting any deficiencies the soil might have. Having the students start off with a nature walk to the farm and then work on the land to explore these different properties was a great way to tie into hands on learning and theory they has been learning in class. Many students expressed how fun it actually was to get to come outside and be in the dirt, figuring out what soil types they had as opposed to simply looking at it on a power point. This was the first time having the class out to the farm to experience this type of learning, and in it going so well we hope to continue growing the path for experiential learning around sustainability with our department and sustainability office.

Pollinator Tour

On October 3, 2019, we hosted a fall Pollinator Tour to those who braved the cold with us. Similar to our Pollinator Tour hosted in June, we enjoyed a nature walk around the grounds, highlighting our various sustainability initiatives such as the solar panels, tree nursery, pollinator garden with butterfly milkweed, community gardens, greenhouse and of course our bee hives. Since recently finishing our Honey Harvest workshop the previous week we were able to get a closer look at some of the hives and honeycomb left in some of the cells.

Honey Harvest

In the last week of September we hosted our annual Honey Harvest workshop where staff, faculty and students had the opportunity to join us and our bee keeper Matt. Participants were provided bee suits where they were able to get hands on experience learning how the pros collect honey from the hives before they prepare for the colder weather that comes with winter.

Donations to St. Vincent De Paul Society

Throughout the summer various produce donations were made to our local soup kitchen, St. Vincent De Paul Society. Tomatoes, cucumbers, zucchini, beans, squash, and peppers were grown in our Community Garden, after which they were donated to the kitchen to use in their dishes. These donations allow fresh produce to be used in dishes for those in need in our local Oshawa community.

To appropriately support the pollinator populations, the university farm lands are also home to three hectares of pollinator gardens. This mix includes pollinator-friendly plant species such as black-eyed Susans, echinacea, milkweed and aster.
Aside from the large pollinator plot, we also care for a smaller plot, which includes vegetables, common milkweed, butterfly milkweed, sunflowers, herbs and more. 
If you are looking to grow your own garden to attract pollinators or grow vegetables, check out the university's Seed Library.
In 2019 and 2020, Ontario Tech was the recipient of the TD Friends of the Environment Foundation Grant which allowed for the expansion of the wildflower gardens on campus along with increasing the tree canopy with over 300 native and fruit trees planted, providing habitat and food for wildlife.
The university is home to 44 hives on Windfields Farm, including the three hives saved from within the walls of the barns back in 2016. Our hives support huge populations of honey bees and in return, they provide us with honey to support their care and maintenance. If you would like to support our bees and the local populations of pollinators, purchase honey right here on campus.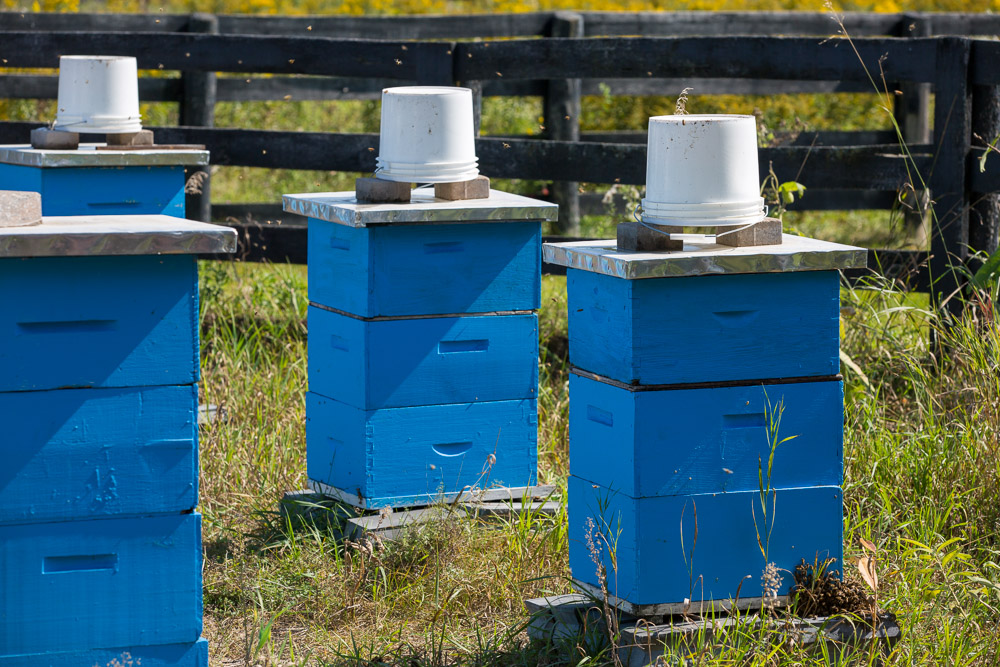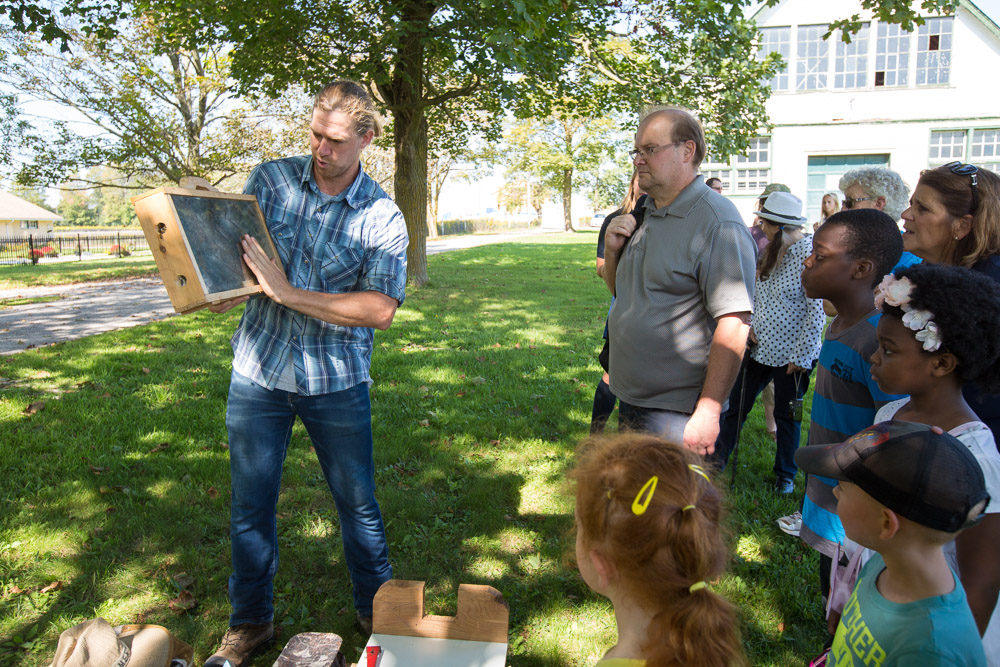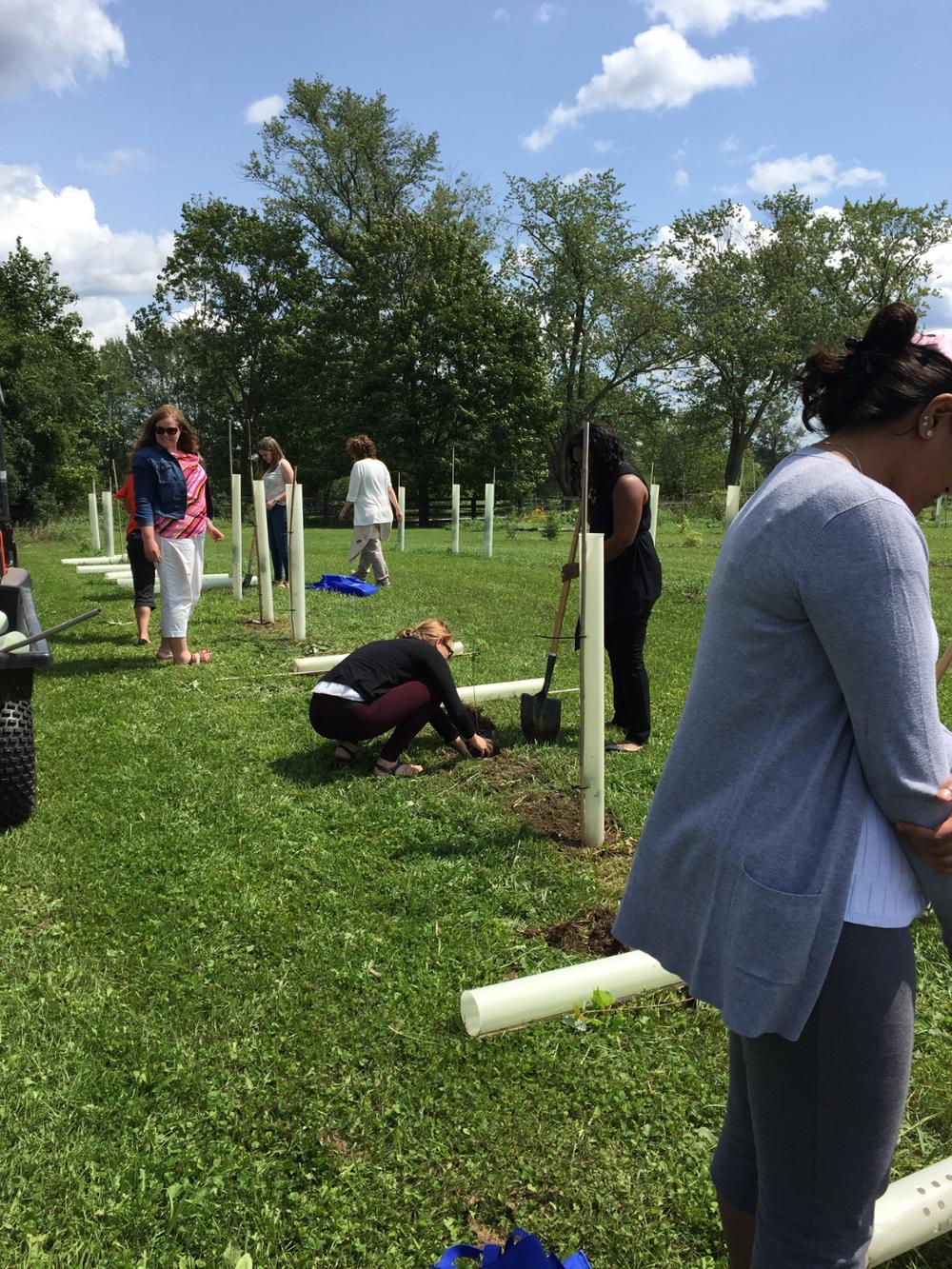 Our tree nursery is home to over 500 native coniferous and deciduous trees. A variety of trees are planted annually in the nursery; once these trees become strong enough, we plan to relocate them around campus to provide shade and visual aesthetic.
With the Ontario 50 Million Tree Program, Forest Ontario and Ethic Trees, our local tree planting partner, 4,410 seedlings were planted in 2020 around the university lands. A total of 7,520 seedlings were planted in 2019 (5,520 Tamarack and 2,000 Eastern White Pine) and in 2018, 8,360 seedlings (1,810 Eastern White Cedar, 265 Red maple, 1,300 Eastern White Pines, 4,985 Tamarack) were planted.
In 2019 and 2020, Ontario Tech was the recipient of the TD Friends of the Environment Foundation Grant which allowed the planting of over 300 native and fruit trees on campus and the expansion of our wildflower meadows to support our sustainability mission.  
You can c

reate a living legacy on our campus:

Name a tree.
Our apple and pear trees require pollination to properly grow and produce fruit, so we rely on our local pollinator populations to help out in that process. For more information, contact sustainability@ontariotechu.ca. 
Photo Gallery: Communications and Marketing Tree Planting 
In the summer of 2018, Ontario Tech University introduced its community gardens. For the second year, the university has received The Fulbright Canada-U.S. Embassy in Ottawa Community Leadership Program grant. This year we aim to continue the work from last year and expand our community garden plots on campus. Through this amazing program, Ontario Tech will grow the Pollinator Project to plant more native and pollinator-friendly flowers along with significantly increasing the amount of produce generated in the gardens.
Collaborating with soup kitchens in the area, we will donate fresh, local produce, to incorporate into meals for those in need. The community garden will not only generate produce but will become an integrated community gathering space, where we will host workshops on gardening practices, the importance of pollinators and healthy ecosystems along with sustainability principles for the campus and community along with youths from schools in the area. This community hub will connect people to each other and back to nature, while improving their mental and physical health, as they become local stewards. 
Currently open to staff and faculty, the gardens provide a great opportunity to grow healthy, local food while developing a sense of community within the university. Gardeners are welcome to grow various plants, including flowers, vegetables and herbs, in 10-by-14-foot plots. Beyond learning new gardening skills, they will have a chance to attend workshops relating to sustainability, the food system and healthy living as they become local stewards. Excess produce will be donated to Feed the Need Durham and St. Vincent's Kitchen (Durham Outlook). 
This project was sponsored by Ontario Tech University and a grant from the Fulbright Canada-U.S. Embassy in Ottawa Community Leadership Program.
The Fulbright Canada-U.S. Embassy in Ottawa Community Leadership Program provides small grants to alumni of Fulbright Canada programs and other United States Government exchange programs to partner with local organizations in order to make a significant positive social impact in a Canadian community through volunteer-based projects.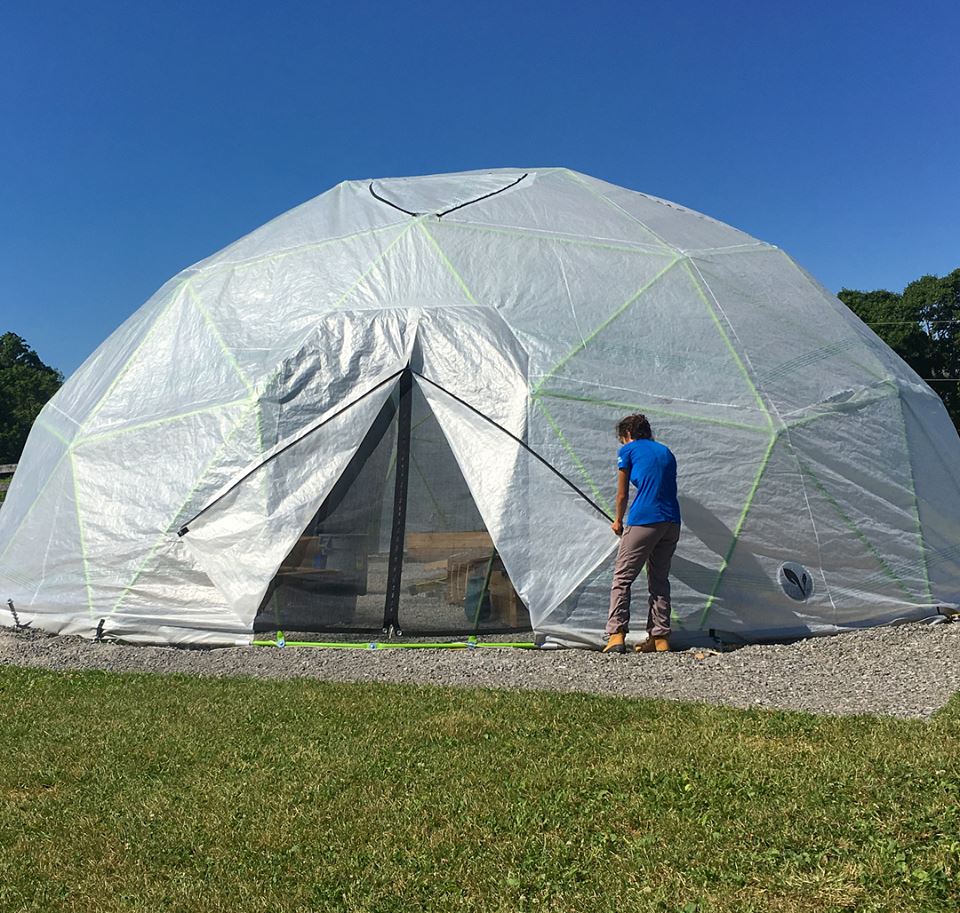 Another recent addition to this project is a 32-foot greenhouse. This greenhouse will continue the Pollinator Project, allowing gardening through the cooler seasons. With eight-by-two-foot handmade wooden raised beds and various potters, this greenhouse offers plenty of space to grow plants through every season. The greenhouse provides opportunities to experiment with vertical farming plants such as tomatoes. It also provides opportunities to research various factors that may impact plant growth, such as temperature. The excess produce from this initiative will also be donated to Feed the Need Durham and St. Vincent's Kitchen (Durham Outlook).
Starting as a pilot project, a four-tower vertical garden is now located at the Office of Campus Infrastructure and Sustainability. A vertical garden is a farming technique, where plants grow vertically using hydroponics (growing plants without soil, using nutrient solutions). A variety of vegetables and herbs can be grown, some may include spinach, kale, lettuce, parsley and basil. This type of horticulture reduces the horizontal space requires as conventional farming while still providing substantial yields, with proper management (on a large scale). Understanding proper light management, monitoring pH and nutrient levels along with regular watering are some of the key factors to making your hydroponic system succeed.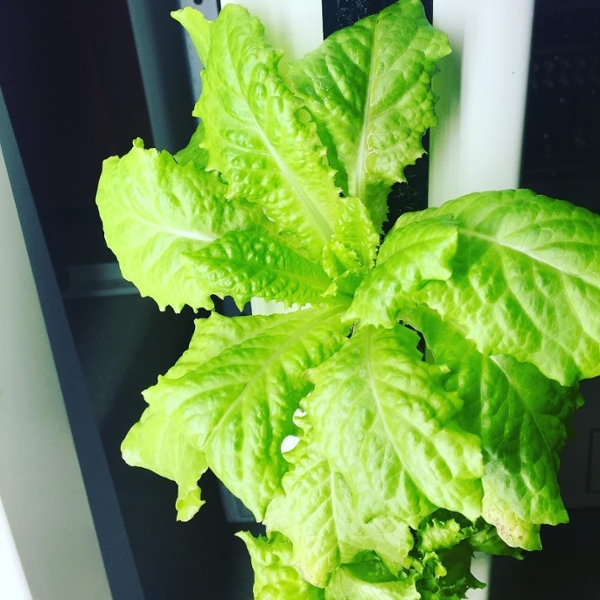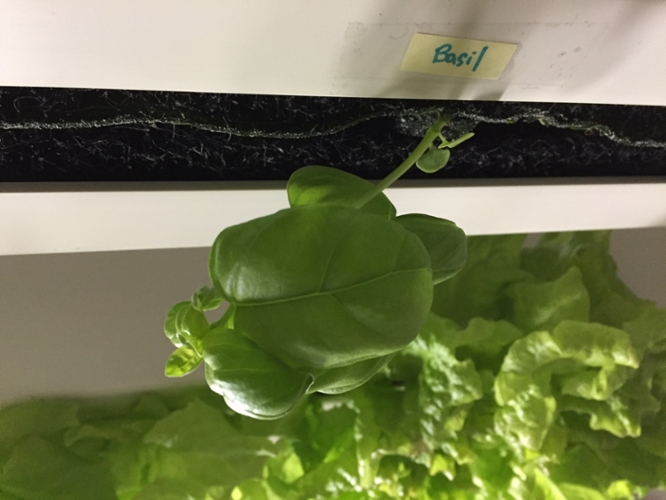 Pollinator team
Hailey Hogan, Asset and Sustainability Assistant (fourth-year student)
Georgia Wilder, OCIS Gardener (fourth-year student)
Ken Bright, Director, OCIS
Peter Stoett, PhD, Dean, Faculty of Social Science and Humanities
Mary Olaveson, Associate Teaching Professor, Faculty of Science
Nadia Harduar, Asset and Sustainability Planner
How can you support the Pollinator Project?
Purchase the university's local honey. Visit the link below for more information.