About us
In 12 short years, Ontario Tech University has thrived as a young, innovative, future-driven institution. The university has become a sector leader in sustainable design and technology-enriched learning environments, prioritizing innovative research excellence and the application of energy performance technologies - most notably, the largest geothermal well field system in Canada.

Recognizing that sustainability is a moving target where methods are ever-changing and improving, the university continues to dedicate resources to the application of effective, long-lasting solutions. Most recently, the Office of Campus Infrastructure and Sustainability developed the Go green. Stay blue (2014) platform, which is focused on strengthening green initiatives on campus and in the community through active student, staff and faculty engagement. We strive to demonstrate stewardship of the natural and built environment in a socially, environmentally and economically responsible manner.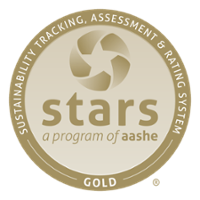 In 2016, Ontario Tech earned a STARS Gold rating in recognition of its sustainability achievements from the Association for the Advancement of Sustainability in Higher Education (AASHE). With more than 650 participants in six continents, AASHE's STARS program is the most widely recognized framework in the world for publicly reporting comprehensive information related to a college or university's sustainability performance.