Events
Upcoming events
Campus Sustainability Month
Tree Planting
Wednesday October 13th from 12:00pm-1:00pm
Join us in planting over 50 trees in the campus tree nursery, located at the university farmlands.
This event is free, shovels and gloves will be provided. Please wear closed-toe shoes and and bring your positive attitude.
Registration is required.
Honey Harvesting & Bee Health
Wednesday October 13th from 1:00pm-2:00pm
Get front row tickets to watch our bee keeper harvest honey from Ontario Tech's beehives; you can have a change to jump in a bee suit to lend a hand. All honey harvested is jarred and sold at multiple locations on campus, with proceeds reinvested to support our pollinator project.
This event is free, however, registration is required.
E-Waste Wednesday
Wednesday October 20th between 11:30 and 3:30pm
Drop off location: Storage Shed, between the Pavilion (UP) and The West Village Residence. Stop by to learn more about our waste initiatives on campus; signage will be present.
Join us in properly recycling your electronic waste and divert from landfill; we will be accepting broken or damaged electronics that would otherwise be thrown out
Click here for a full list of acceptable electronics 
As part of Waste Reduction Week in Canada taking place Oct 18th -Oct 24th
Fair Trade Week
During the week of October 25th-29th, look out for campus fair trade week.
This will involve our sustainability department's work towards slowly transforming Ontario Tech into a fair trade campus, along with raising awareness towards the ethical benefits of fair trade practices.
Check back soon for more information, including UB Cafe's participation in Fair Trade Week.
Ontario Tech honey on sale until October 22nd. Click here for details.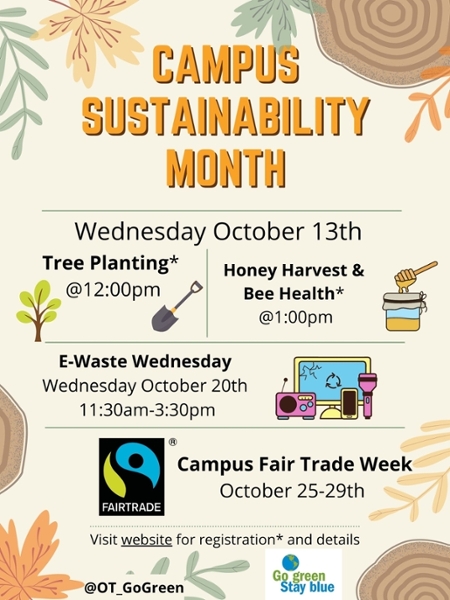 ---
Healthy Mind, Healthy People, Healthy Planet: Our Collective Actions
Starting Friday, May 1 (ongoing)
Healthy Mind, Healthy People, Healthy Planet: Share a photo or sustainability tips and practices of how you are staying healthy (mindfulness activity and stretches, connecting with nature, reducing single-use items, nutrition tips, meatless recipes, etc.) while physically distancing. Submissions will be used to create a collage of how the Ontario Tech community is living sustainably, both on and off campus.
National Forest Week and National Tree Day
Sunday, September 20 through Saturday, September 26
 

2020 marks the 100th anniversary of National Forest Week in Canada! The Canadian Institute of Forestry has created the theme for this year as 'Healthy Forests- Healthy Future'.

Visit the event page

 to find out more!

National Tree Day is on Wednesday, September 23.
ACTION: We Grow Tress from Home - Collect acorns from around campus or your neighbourhoods; foster the acorn over winter; plant acorn, and care for and water acorn during growth process into a tree. Take pictures and share with us on social media @OT_GoGreen or email sustainability@ontariotechu.ca 
Ongoing events
Ontario Tech Community Gardens
Join us this spring as a part of the second year of Ontario Tech Community Gardens. Contact sustainability@ontariotechu.ca to sign up and learn more. ** Note: The Community Garden will not be operating during summer 2020 due to the pandemic, following university procedures; updates will be shared on this page and in the Weekly Report. **
Sustainability on social
#MugLife
Chance to win a prize, during certain times in the year by tagging yourself using a reusable mug with #MugLife and @OT_GoGreen.
Caught Green-Handed
All month long, tag yourself, your friends, family or coworkers completing a sustainable act (using a reusable water bottle, taking public transit, cycling, etc.) and use #CaughtGreenHanded.
Sustainability Scavenger Hunt
Keep your eyes open for sustainability-related initiatives on campus! Whether its something you do, something your friend/co-worker does or something the university is doing, we want to see the sustainability-related things happening on campus. Share it on social media and tag us @OT_gogreen, and #gogreenstayblue to showcase your discovery!
Archived event information and galleries