Toronto's powerful pitch for Amazon
Posted by Daniel Hoornweg on March 06, 2018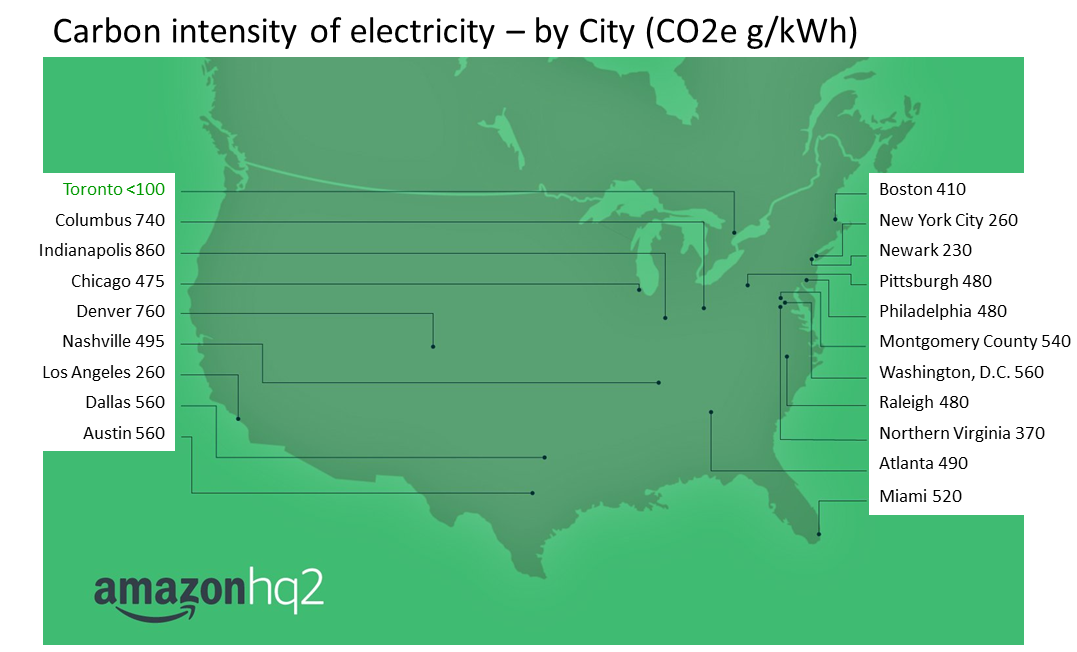 ---
There is one characteristic in particular that distinguishes Toronto from the other 19 remaining candidate cities vying for Amazon's Headquarters2. It may in fact, be one of its most significant standout qualities, yet has garnered little attention.
The carbon intensity of Toronto's electricity is less than 100 g CO2e/kWh. That's less than a fifth of the average carbon intensity of the US cities still in the running. This difference is substantial in both its financial and environmental impacts.
So far this year, Ontario's electricity carbon intensity has averaged a very low 40 g CO2e/kWh. That's among the lowest in the world. To put this in perspective Indianapolis is 860 g and Washington DC, 560 g. There's no city in the US competing against Toronto that has carbon content less than 200 g. And Toronto's advantage grows as the region electrifies transportation. Electrifying transportation makes no sense in cities like Indianapolis, Denver or much of the Eastern Seaboard where there is still a high reliance on coal, but it makes complete sense in Toronto (as well as Montreal and Vancouver).
Toronto receives low carbon electricity from nuclear and hydro, with a little wind and solar, and occasional natural gas. Ontario stopped using coal for electricity generation in 2014. With Darlington and Bruce nuclear power plants being refurbished for another 30-plus years of operation, Toronto can guarantee low-carbon electricity beyond 2050.
By locating in Toronto, Amazon could reduce its greenhouse gas (GHG) emissions by more than a million tonnes per year.[1] This may be especially relevant for Amazon as its received criticism for non-disclosure of corporate GHG emissions.[2] There is debate on how welcoming Toronto should be to Amazon, e.g. impact on an already tight housing market, but there is no debate that the Toronto region has significantly lower carbon electricity than any of the US suitors.
There are many considerations when locating a business. Diversity, a well-educated workforce, and a welcoming business climate are often touted. But increasingly, Toronto and much of the rest of Canada, has a powerful advantage in low-carbon electricity. Locate in Toronto and reduce your annual carbon emissions by more than a million tonnes – it's a powerful pitch.
---
[1] Based on an estimate of 50,000 employees, 25,000 direct family members and 6 tonne per person lower electricity emissions, and 4 tonnes per person transportation emissions, and 250,000 tonnes/year savings in emissions from computer operations.
Filed under: Sustainability 101
---